I reinstalled k-lite mega I went with all the recommended settings, I also downloaded all the extra Microsoft appx. But after installation I just closed the windows when it was done then moved on to the next installation, but I didn't choose the run program, I just hit closed. I think it all installed ok. But when I tried to play [1080p] [h.265].mkv and a couple with just the file extension .mkv they were choppy and the sound kept on gaping out. I played these kinds of file extension .1080p.Amazon.WEB-DL.x264-Rapta.mkv and they seemed fine. I've been trying and failing to play different kinds of .mkv files in vlc, mpc-be, mpc-he, and the newest Microsoft player in windows 10, and I was running on Linux mint and studio ubuntu, and none of those players worked either. I have followed a bunch of online directions to fix this, none of them worked. I'm serious man I've spent copious amounts of time trying to fix this. This was my last attempt. I thought for sure this would work. I must have checked the wrong box or something, I specifically looked out for HEVC x265 and H.x266 Hx254 options and a few codec file types I knew I didn't have. These people who are giving out directions to fix this are so vague and almost cryptic, not one would work, this has been going on for about 6 months ! Can someone here please give me an answer to this issue that actually works. As far as I know I'm completely updated. maybe It's a hard ware issue this computer only has 4GB ram, amd v140 2.30 GHz chip, 1TB western digital, ATI Radeon HD 4200. And one thing pisses me off more than anything is that all my searches in Qbit-torrent are all mkv files the majority of which are unwatchable, once you get down the list past all those mkv files then all the other file extension have no seeds. I don't understand why these are so popular, I've hated them since I saw them. And it takes absolutely forever to convert them. The only thing I discovered that helped was converting them and removing all the subtitles. I don't need 80 languages I don't need subtitles at all. Removing subs really diminished the size and I'm convinced its audio or subtitles that are screwing them up the most. HELP!

will lund




Posts

: 1


Join date

: 2023-03-24



Remember to fully close MPC and reopen it every time you change settings.
This is very old and cheapest config you have  
Start with this settings, with DXVA native, if does not help switch to copy-back
Select all checkboxes in under Codecs for HW decoding
Hardware device to use keep automatic: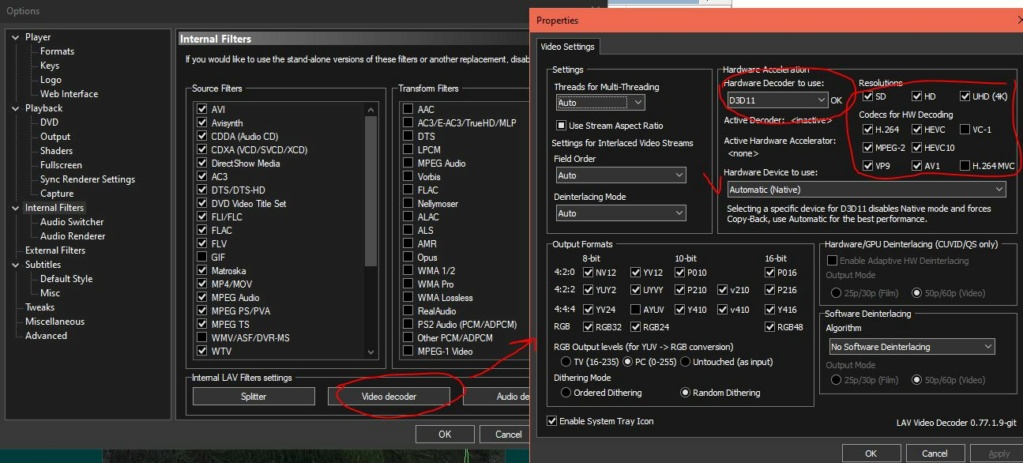 Then play with Enhanced video renderer and MPC video renderer. Make sure DXVA shows green.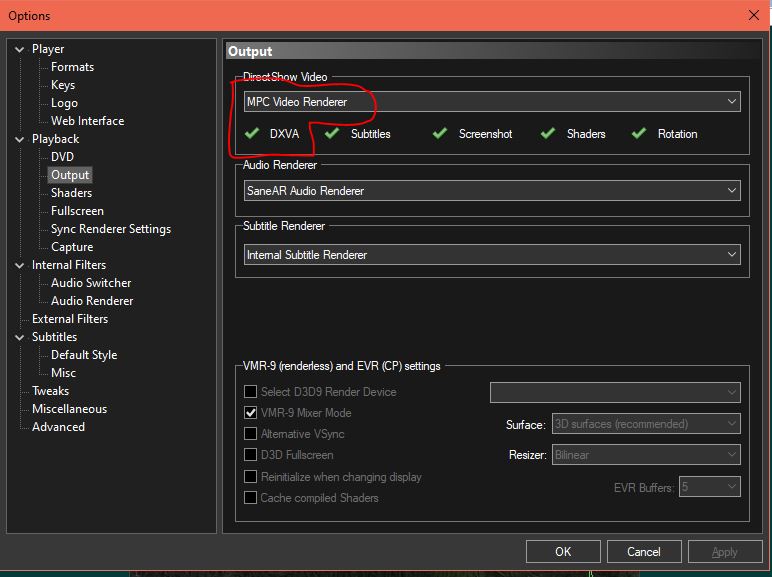 Let us know if at the left bottom corner you see Playing [H/W].

demonru




Posts

: 11


Join date

: 2023-03-23



Your system does not support hardware decoding of HEVC/x265 video. And your CPU is not powerful enough to smoothly decode such video.

You should download H264 videos instead for this old computer.
---
Permissions in this forum:
You
cannot
reply to topics in this forum