Hey guys,
I hope this is okay to post here, please let me know if it isn't.
I'm trying to get Blu-Ray playback through MPC on PC to work with my new LG OLED (via HDMI 2.1 cable from RTX 2070 Super), which in turn is hooked up with a Sonos Beam (1st gen) through HDMI Arc and set to pass through. The Sonos doesn't support any of the more advanced sound formats, so the idea - which I essentially used with my previous TV as well - is to use bitstream for any AC3 and regular DTS tracks and convert anything else to AC3 via ffdshow. I've managed to get most of it to work this way now, including eac3 and TrueHD, but DTS-HD causes an "audio not supported" message to pop up on my TV. Looks like it's bypassing ffdshow audio decoder entirely. When I remove dts from the supported formated in LAV splitter, I get ffdshow instead but it only produces static instead (doesn't work on PC Speakers either). Not quite sure what I'm doing wrong, any suggestions would be appreciated.
Thanks in advance!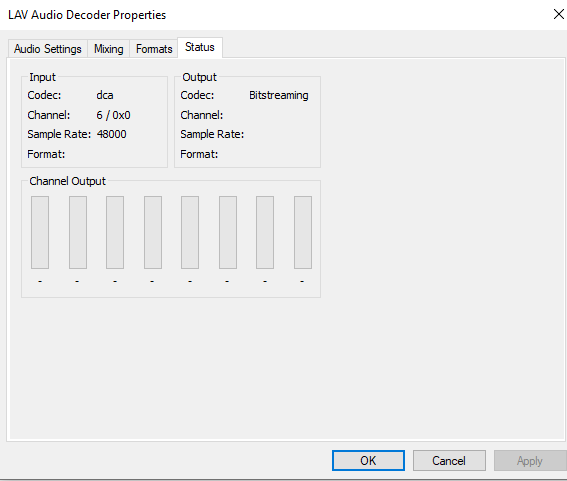 MacTeq




Posts

: 2


Join date

: 2022-12-11



First test if DTS-HD decoding is working when outputting to your PC speakers (bitstreaming disabled). Maybe something else is wrong given that other formats all work.

And asking just in case. I assume you are using a tool for decrypting the Bluray? That is required for playback with MPC-HC.
Thanks for the quick reply!

I think I figured it out just now: I had DTS checked for bitstreaming in LAV which also seemed to affect DTS-HD formats. Unchecking solved the issues, it's now giving me 5.1 DD on the Sonos.

But for the record: yes, I use AnyDVD to decrypt.


Edit: Ah, seems like the LG OLED doesn't do passthrough for even basic DTS for whatever reason, that had me fiddling into the wrong directions. That's pretty dumb but not a big deal. Sorry to have bothered you with this.

MacTeq




Posts

: 2


Join date

: 2022-12-11



ARC usually support the same as S/PDIF which is AC3 5.1 + DTS 5.1 + PCM 2.0
eARC on newer devices also supports the HD audio formats.

Look up the specifications of your LG OLED to confirm if it really only supports AC3. Maybe a firmware update is available to fix your problem.
---
Permissions in this forum:
You
cannot
reply to topics in this forum