I am unable to get the thumbnails in explorer to show the correct cover art of my files. I have reinstalled K-Lite multiple times, and cleared the thumbnail cache many times as well. My windows is up to date, and the option to use cover art of thumbnails when available is turned on.
I attached some screenshots, if you need any more information please let me know.
All the episodes should have the same cover art shown in the VLC screenshot, they just show frame captures not the cover art.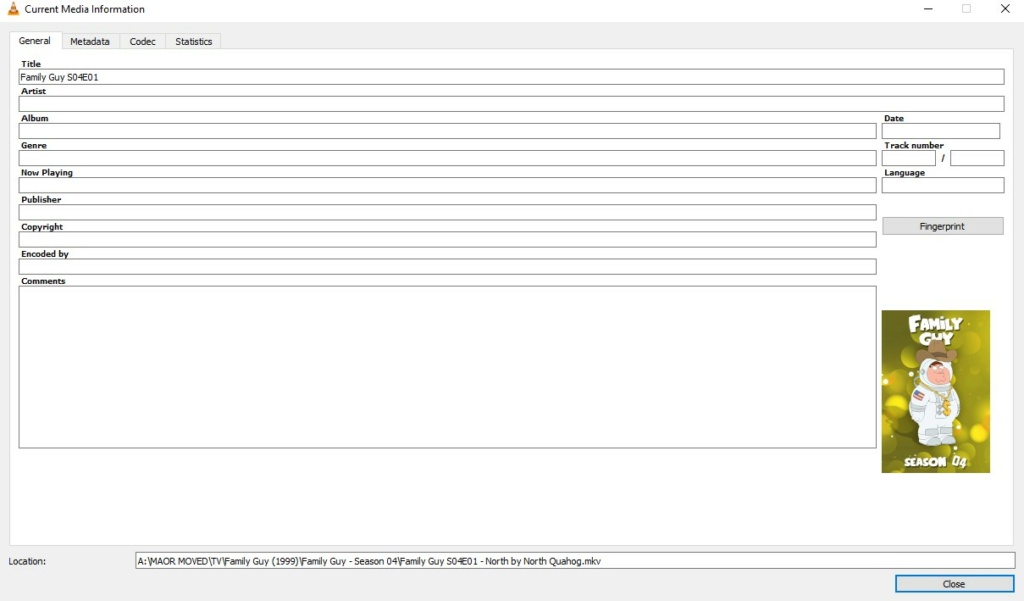 MatrixTech




Posts

: 4


Join date

: 2022-08-04



I would need a link to download one of those videos to test and send to the developer of Icaros.

MatrixTech




Posts

: 4


Join date

: 2022-08-04



It correctly uses the coverart here.

Are you using the latest version of the codec pack?
Yes I just installed it a few days ago, I used the Mega Pack.

MatrixTech




Posts

: 4


Join date

: 2022-08-04



Check if this folder exists:
%LOCALAPPDATA%\Icaros\Cache
(you can copy paste this in Explorer bar)

That is secondary cache from Icaros if you enabled that option.

Otherwise, I don't know what is wrong. I assume you already rebooted after clearing the Windows cache.
I have cleared the cache and restarted many times.

I do not have a folder called "Icaros" in my local appdata.

Edit:
I installed Icaros standalone and now the thumbnails are correct. I'm not sure why the Icaros that came with the codec pack is not working properly for me.


MatrixTech




Posts

: 4


Join date

: 2022-08-04



Then it was probably using the thumbnailer from Windows instead of Icaros. It can get reset after big updates of Windows.
sometimes (in windows folder options) the "always show icons, never thumbnails" was checked. Uncheck it.
Also check if the view mode of windows file explorer is set to 'large icons' (windows 7)

I had the same problem.. Windows suddenly stop showing thumbnails. So i played with icaros & klite settings - nothing worked, until i decided to check windows explorer view setting.

taker5372




Posts

: 1


Join date

: 2022-08-11



---
Permissions in this forum:
You
cannot
reply to topics in this forum