Hello.
I'm using MPC HC as my main video player.
Lately I began to use MadVR as my main output renderer for MPC HC, this since I'm creating some HDR content and I use MPC to play it, just as my customers do.
But also I create normal content involving models, and when I switched to MadVR I noted that the colors displayed in the video had changed.
After trial and error I got to the conclussion that the previous MPC HC renderer's colors ("Enhanced video renderer") were driven by Intel UHd graphics where as by using MadVR the colors are driven by something else.
Is there a way to allow that colors displayed by MadVR are driven by Intel UHD graphics? I tried many settings inside MadVR codec settings and MPC renderer settings, but nothing worked.
I need to use both MadVR codec to play HDR videos but I need also the colors displayed by Intel UHD graphics, the latter because the skin tone feature is really helpful to display some nice shades on the model face's skin.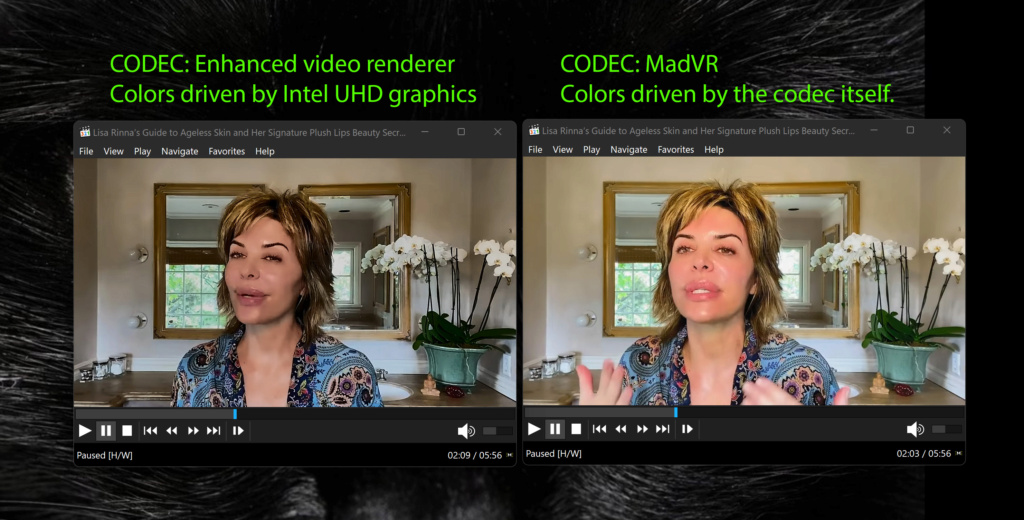 Best regards.

Sinue11




Posts

: 2


Join date

: 2022-03-06



No, it bypasses the "skintone enhancement" and "contrast enhancement" of the Intel driver. Both of which can actually hurt quality btw.

But regular color controls should work. Either those in Intel settings, or if disabled there in the player:
Options > Miscellaneous

That is all the help I can give.
Ok.

I Suppose that I will be using MadVR for HDR content display and Enhanced video renderer for videos invloving people.

However, by using "Enhanced video renderer" to play 4K videos, there is kind of a low performance behavior, the video looks like if it was on slow motion and the audio lags. I checked the option "D3D Fullscreen" and the issue is solved, but just in full screen mode and the controls are hidden due to the nature of this feature.

Is there an option that I can check so that the performance would be the same as when I tick "D3D fullscreen"? I mean, I don't want the video looks like slow mo while the player is in frame mode.

Regards

Sinue11




Posts

: 2


Join date

: 2022-03-06



Resizing costs performance.

Try MPC Video Renderer. That support hardware accelerated resizing.
---
Permissions in this forum:
You
cannot
reply to topics in this forum