Hello.
I have more complex problem than just get the sound from codec, but i think this will be the best solution.
I need to catch sound from any program that can decode AAC and send it to any output for example speakers.
I'm using win7 and playing vrchat. This game use unity and VRC_SyncVideoStream which use Media foundation codecs. Nobody know where is the problem, some guys say that Media Foundation on win7 dont have needed updates or anything other, but video works, i just can't hear any sound.
So i changed codec to LAV audio. I can see on it that sound bars work there, . In game still no sound. I tried FFDshow audio. Still the same.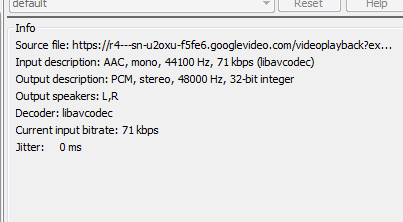 Thousands of random set ups of codecs change nothing. Thats why my question is, how to get sound directly from Codec?

gabriel0




Posts

: 2


Join date

: 2021-07-28



This is not a problem with the codecs, those are obviously working.

You say the game uses Media Foundation. But LAV and ffdshow are DirectShow filters. So I am confused.

The problem is likely with the audio renderer that the game uses. I know nothing about VRC_SyncVideoStream.
I know nothing too about all this things. So thats why my question is how to get sound directly from codec.

gabriel0




Posts

: 2


Join date

: 2021-07-28



The output of the decoder goes into the audio renderer, which sends it to the audio driver, which sends it to the audio device. This is how it works and it can not be changed.

You need to ask the makers of the game for help. It may be using the wrong audio device for output. Check in your Windows Sound settings if "Speakers" is selected as the default device.

This is not a codec problem.
---
Permissions in this forum:
You
cannot
reply to topics in this forum