From several versions of K-Lite Mega Codec Pack, I have a problem, so when I try to associate the files, a message pops up saying that: the icon library "mpciconlib.dll" was not found, the associated files will be assigned a standard player icon. The library is in a folder, but it looks like it is damaged ... The problem is that I have noticed this problem for several versions, previously it was ok, and since I have been updating the package to the latest versions on a regular basis for over 3 years (I did not install cleanly) everything was fine, now, when the clean install is done, the above-mentioned message pops up, the system is windows 7, the same was true for some other computers ... I would be grateful for fixing it... PS. I'm from Poland

SPOXPRZEMAS




Posts

: 3


Join date

: 2021-02-28


Age

: 32


Location

: Polska



I am unable to reproduce the problem.
I also have Windows 7. I tried with both 32-bit and 64-bit version of the player, and both included icon libs. No errors.

If the file exists, but the player thinks it does not, then perhaps your virus scanner is blocking access to the file?

File associations are also already created by the installer. You don't need to do it manually.
And try uninstalling KLCP and reinstalling, but recently the version, only then what I wrote about happens, when I have been updating non-stop for a dozen or so versions, but I have not installed again, the problem did not occur, it probably started from version 15.9.5, or one close to this one. It is interesting that the "mpciconlib.dll" library that the MPC installed with KLCP contains has a size of 1.76MB, but if you install the MPC player only, without KLCP, the same file has a size of 2.40MB and replacing it with the "damaged" everything seems to be ok, I know that KLCP creates associations during installation, but my point here is that it should only play video files + ac3 audio files, the rest is played in a different player ... something is definitely wrong... The newer version is smaller than the older one... both of the 64bit versions. I'm sending proof...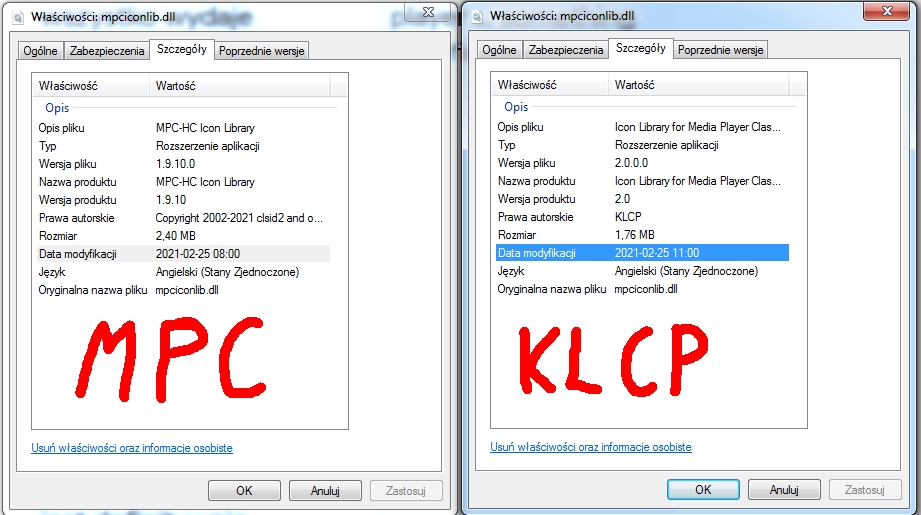 SPOXPRZEMAS




Posts

: 3


Join date

: 2021-02-28


Age

: 32


Location

: Polska



KLCP uses a different icon library. So comparing them is pointless and it is not the reason for the problem. It works normally for other people, so question is why not on our systems.

Does your Windows 7 system have Service Pack 1 installed?
Of course it is, and any updates. I figured out exactly which version is the problem, as I still have a laptop with WIN7 that has not been used for a long time, I decided to check it one by one with which version the above-mentioned error will start to appear, initially version 15.9.3 was there, I checked and on it was ok, I updated to 15.9.4 and still ok, the bug came with the installation of version 15.9.5, which is the player version 1.9.8.109, on version 1.9.8.86 which was shipped with the 15.9.4 update. everything is ok, after copying the library from this version to version 16.0.6, everything works as it should. In the picture presented by me you can see that the library from version 15.9.5 compared to version 15.9.4 is broken, 32KB is missing...

SPOXPRZEMAS




Posts

: 3


Join date

: 2021-02-28


Age

: 32


Location

: Polska



Found the problem. The newer compilation required the VC++ Runtime to be installed. It will be fixed in next version.
---
Permissions in this forum:
You
cannot
reply to topics in this forum