Hello, it appears the Media Player Classic is not 4k ready / compatible? As when I swap the player between monitors, it seems to break the playlist completely to the point of being literally unintelligible, as shown in the image posted below.
This will happen to MPC despite being minimized or not, seemingly. It will happen if the resolution is forcibly changed by opening a game or application that changes the resolution. MPC's playlist become distorted. Disabling the playlist via the menu or Ctrl+7 does not seem to fix it. Restarting works, however with a lack of ability to save the playlist to open later, that would mean I would have to manually add all my files back to MPC to listen to again.
I am running Windows 10 Pro, 64-bit
I am using codec pack version 1.9.1. (e4a6154c0)
Compiler: MSVC v19.16.27035
LAV Filters: 0.74.1.31
Build date Jan 21 2020
I have tried maximizing and minimizing the program, disabling the playlist and changing the preset setting, neither have worked. The only fix is completely restarting the application.
I do not get any errors that pop-up.
The below image is an example of the problem after moving the window between my two monitors only 4 times.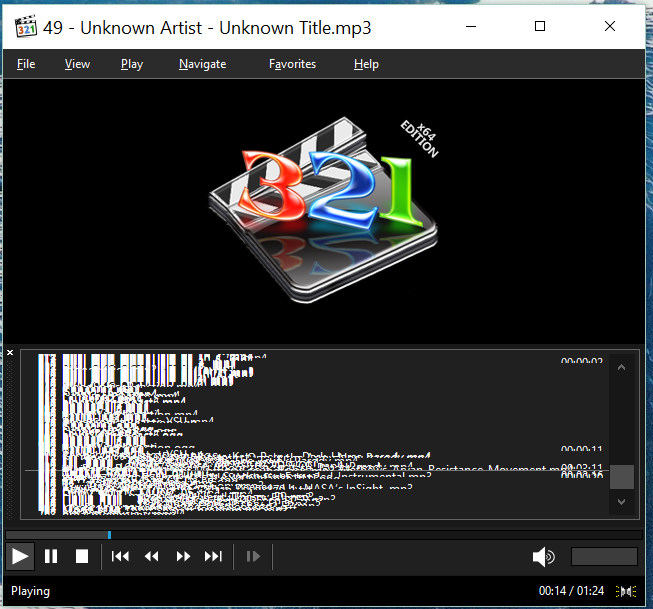 Thanks.
Last edited by 4K_MPC_User on Mon Feb 10, 2020 11:17 pm; edited 1 time in total (Reason for editing : Problem Solved by updating to the latest version! Thank you, Admin, for making KLCP great!)

4K_MPC_User




Posts

: 2


Join date

: 2020-02-08



Thank you! This fixed the issue!

4K_MPC_User




Posts

: 2


Join date

: 2020-02-08



---
Permissions in this forum:
You
cannot
reply to topics in this forum