I installed K-Lite Codec Pack Mega v. 13.7.5. My PC: AMD Radeon 290X, Intel Core i7 4790K, Windows 10...
I have a HDMI cable between my graphic card and the AV receiver (Denon AVR-X3400H), and another between the AV receiver and my TV (Sony XBR-65X855D).
When I play a movie file (Pawn.Sacrifice.2014.Bluray.1080p.DTS-HD.x264-Grym.mkv) via MPC-HC the AV receiver detects that the audio source is stereo, but when I do it via WMP, it detects that is DTS-HD.
When I installed K-Lite i didn't touch the configs..

What is wrong with my MPC-HC?

Jerixus




Posts

: 5


Join date

: 2018-01-08



Codec Tweak Tool > Audio Output > Enable bitstreaming

Jerixus




Posts

: 5


Join date

: 2018-01-08



I have a similar problem (with the same configs, PC, TV and AV receiver) but with another type of movies (now in 4K HDR):
When I play a movie folder (using the lastest Mega version of K-Lite Codec Pack, a HDMI cable v. 2.0 from graphic card of the PC to the TV, and a HDMI cable v. 1.4 from TV to the AV receiver), i have a problem with the bitstream. I enabled it but a error/warning about audio appear when I play the movie folder..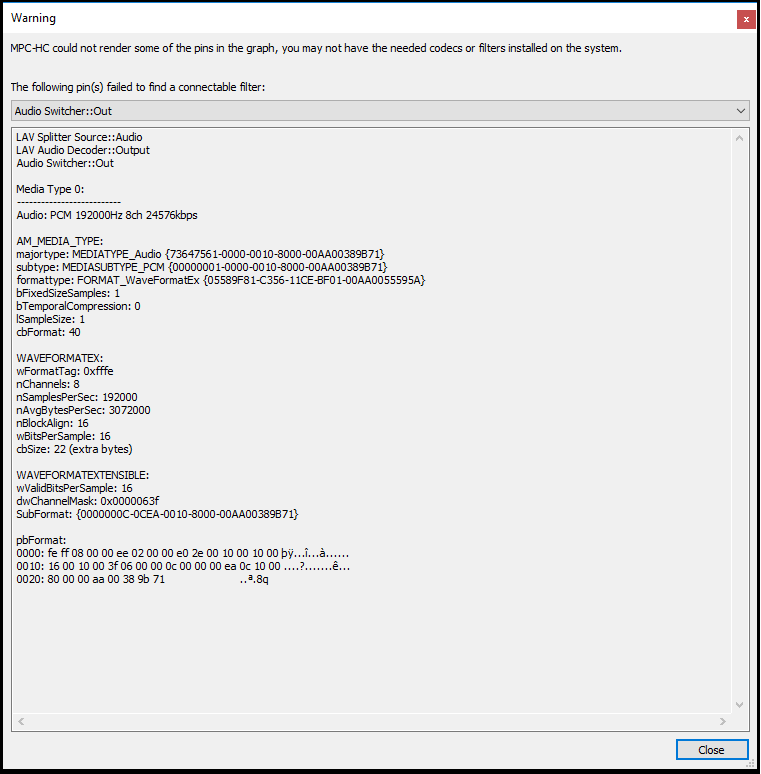 .. if i close it, the movie plays but there is no sound.
I played it with my PC (which is not compatible with HDR I think, but i only mind the audio in this moment) and with my brother's PC (he has an Intel Core i7 6700K and a NVIDIA GeForce 1080).
This happens when i enable the bitstream.
If I do this with a movie folder in 1080p (like Fargo.1996.REMASTERED.1080p.BluRay.AVC.DTS-HD.MA.5.1-FGT, link:
https://rarbgunblock.org/torrent/i9lez2d)
i have no problem.
I don't understand the error/warning message from MPC-HC about the audio.
An example of the movie in 4K HDR is: John.Wick.Chapter.2.2017.2160p.PROPER.BluRay.HEVC.TrueHD.7.1.Atmos-HDRINVASION (you can see it details in RARBG website:
https://rarbgunblock.org/torrent/e32skpj)

Jerixus




Posts

: 5


Join date

: 2018-01-08



Disable bitstreaming for TrueHD.

Bitstreaming TrueHD with Atmos extension is a bit problematic right now. There is no official specification available on how to bitstream that format. It works most of the time, but with very high bitrates there can be some issues.
Thanks you
For the video renderer for HDR i have to choose madVR or can i play it with EVR (custom presenter)?

Jerixus




Posts

: 5


Join date

: 2018-01-08



Yes, MadVR is required for proper playback of HDR.
Thank you
To see a 4K HDR file, do I have to make some configuration modification of MPC-HC or simply by choosing madVR and disabling TrueHD bitstreaming will I get the best sound and video quality (provided by the source) from MPC-HC?
What do you recommend to me?

Jerixus




Posts

: 5


Join date

: 2018-01-08



Those two adjustments are enough.
---
Permissions in this forum:
You
cannot
reply to topics in this forum