Hello Admin,
Previously i faced a problem in my K_Lite Codec and it was successfully solved and i'm thankful for that, but now another problem has been raised with my codec pack and that is about subtitle download. After updating the codec pack to version13.2.4 my auto subtitle download is not working. Previously when i used to run a video it downloads a matched subtitle for that video automatically. But now its not happening. I have provided a screenshot below to show you if i'm wrong anywhere about the option selecting. So Admin i hope that you will inform me if i have selected any option wrongly and will guide me to the correct option. Looking forward fror your reply. Thanks again.

RickyRoy




Posts

: 8


Join date

: 2017-07-02



MPC-HC options > Playback > Output > select a video renderer that is compatible with subtitles

The pack should normally already select a correct one by default. The only exception is when there are problems with the graphics driver, in which case another one is used for compatibility reasons. Let me know which one was selected.
Dear Admin,
This problem has been sorted out now thanks to you. You are the man as i said before
I re-installed my graphics driver again. I don't know why its always my graphics driver betrays me
Anyways, now i have only one query left. And that is, when the subtitles are downloading automatically, sometimes single subtitle file get downloaded and sometimes more than one file use to show as a search result and lets user choose to download one(or more). So now that list of downloads are not appearing on the screen , so automatically i cant choose to download my selected file. I have provided the screen shot below. You can see there it is written "7 subtitles found" but after this the 7 subtitles list is not showing. Which is used to show before.
I am also providing you the screenshot of the Subtitles>Misc options. Please let me know if there is anything else to check or uncheck hereafter.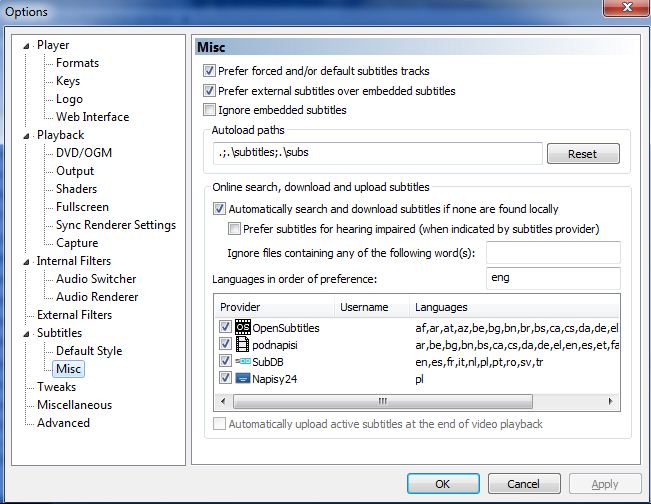 RickyRoy




Posts

: 8


Join date

: 2017-07-02



It will automatically download a subtitle if there is an exact match. The choice will only be shown if it is not sure which one to use.

It currently only looks for English subtitles. If that is not your preferred language, then you need to adjust the language code on that settings page.
No no. English is in need. Ok thanks man.

RickyRoy




Posts

: 8


Join date

: 2017-07-02



---
Permissions in this forum:
You
cannot
reply to topics in this forum