Went through some uninstalls and reinstalls of the codec pack due to a different issue, got most everything working, but one aspect of playback is different than I remember.

When playing back audio using MPC-HC, if the audio is in surround sound format, LAV will bitstream it to my receiver. During this playback mode the volume slider and mute functions of MPC-HC are not functional. Additionally, the main Windows volume slider is not functional, although the Windows mute function still mutes the whole system. Only up/down volume control is through the receiver's remote. I'm fairly certain this hasn't always been the case for my setup.

Some google searches so far have only suggested I make sure all output choices are set up correctly (I think they are) or I reinstall MPC-HC into a different folder - seems odd but I haven't tried it yet.



LabRat




Posts

: 13


Join date

: 2013-12-13



Volume can only be modified after decoding. When bitstreaming, decoding is done by the receiver and hence only the receiver can adjust volume.

The solution is simple. Disable bitstreaming. Then uncompressed audio (PCM) will be send to the receiver. That will work just fine with HDMI and modern hardware.
That might be what I end up doing quite soon. I've just started ordering pieces to build a new HTPC. Based on my limited knowledge my ancient PC I'm currently using cannot output more than 2 channels uncompressed - it's the HDMI out of a Radeon 3400 vid card. Disabling bitstreaming played the audio just fine, from only my L/R speakers. Now I can buy a copy of Windows 10 and build from a clean install. Bitstreaming seems so easy, I wonder if I might try that with the new build too. I think I just had forgotten that volume control in MPC is not functional when bitstreaming. Thanks for the response

LabRat




Posts

: 13


Join date

: 2013-12-13



Modern hardware should be capable of up to 8 channels uncompressed. I don't know what the Radeon 3400 is capable of.

Try with 5.1 output in both the codecs and the Windows control panel.
Codec Tweak Tool > Audio Output
depends on whether a dell from 2007 is considered modern.  I have no issue setting 5.1 as output from LAV Audio (or Codec Tweak Tool), but in Windows I'm not sure it's an option. I think this HDMI audio driver is limited to 2 channels. I'll be building a Win10 box using a much more modern onboard audio motherboard in a couple weeks - with that I should have either bitstreaming or decoded audio as output options.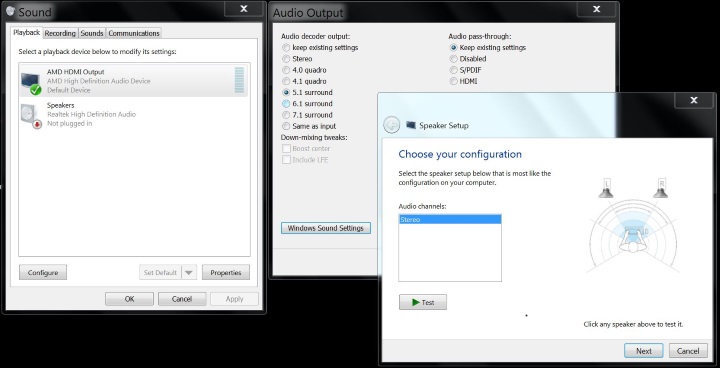 LabRat




Posts

: 13


Join date

: 2013-12-13



Check your HDMI cable. It should say "hi-speed" or "version 1.4". Old cables have less bandwidth. But the 3400 is pretty old, so I would not surprise me it it can't do more than 2 channels.
---
Permissions in this forum:
You
cannot
reply to topics in this forum